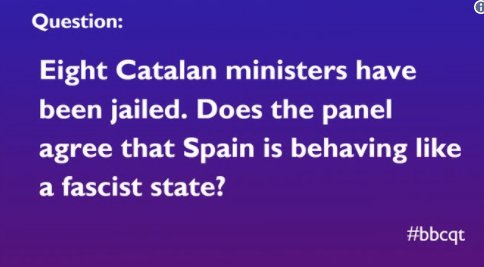 Spain sinks into authoritarianism and state violence. Its right-wing Government have incarcerated half the Government of Catalonia, a region many of whose citizens want to become independent from Spanish rule. The other half of Catalan Government have fled to Belgium, from where they are representing the majority of the Catalan people who voted for them in 2015.
Catalan Government have been trying for seven years to negotiate with the Spanish State a new arrangement in their relationship, which is heavily centralized. They asked for more autonomy; when they realized Spain wasn't willing to meet their needs, they decided to foster independence. After that, instead of talking and showing a wish to reach an agreement, Spanish Government threw the police against disarmed Catalan civilians and jailed their political representatives.
In October 1, 2017 Catalan people voted for independence from Spain in a referendum which was not recognized by Spanish Government. Spanish Police beat brutally civilians who just wanted to vote (see videos: spanishpolice.github.io).
Partido Popular (PP), the party that rules Spain, have been proved to be a corrupt, criminal organization. In fact, by many accounts, Spain have the more corrupt Government in Europe. As Spanish fiscals and judges have proved, its leaders steal money that should go to public health, welfare and schools. This has been proved after difficult, sabotaged trials. Some high-level PP members have gone into jail because of their corruption and plundering, but many are still free and going to great lengths -both legal and illegal- to avoid being accused. Some of them are free even after receiving prison sentences.
Judiciary power isn't independent in Spain: it is very closely linked to the executive branch. The judge who condemned Catalan politicians was decorated with honor by PP. The attorney general who accused them has been rejected by Spanish Parliament due to his strong connections to PP.
By attacking Catalan people and Government, PP aim both to gain the most right-wing Spanish voters and to avert the public focus from the corruption trials. There has been for years a PR campaign against Catalan people in Spanish media, most of which are owned by banks and interest groups linked to PP.
Many European, American, and Canadian thinkers, artists, and politicians are protesting against Spanish State's mounting violence. Catalan people are trying to let the world know of the attack they are suffering. See the pictures below to have a slight idea of what is happening in Catalonia.